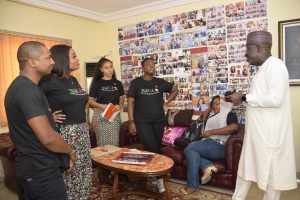 A lot of what we know has changed drastically and this holds true to the narrative that 'the only constant thing in life is change'. We need to rethink the realities we all once knew and begin to readjust our mindset to better adapt to the inevitable future that is always changing.
How we approach skills – in a job, career, business and entrepreneurship and our every day living, is transforming. Leadership skills have a very important place and plays a key role in how we position the future in our new reality.
Here are 6 leadership qualities to consider
Empathy
As a recently certified Narrative 4 story exchange facilitator, the place of empathy as a leadership skill cannot be over emphasised. This leadership quality includes empathy, human and kindness. This is one of the key attributes that the Prime Minister for New Zealand, Jacinda Arden, imbibed to respond and tackle the corona virus outbreak.
Intellectual Honesty
Leaders are placed in a position to have the truth as well as provide true, honest, useful and accurate information. To increase your intellectual capacity is essential and should also be very dependable when providing transparency and honest information such as former first lady to the United States of America, Michelle Obama, does.
Systems Thinker
The world is a global village and it means everything is connected. A leader thinks and understands the bigger picture and how this has a possible impact on where she is operating from. A systems thinker has a heart for collaboration and sees business systems as a combination of things that should exceed the sum of their parts. Nigeria's former Minister for Finnace, Dr. Ngozi Okonjo-Iweala and CEO of Black Entertainment Television, Debra Lee, lead their teams to think global and used this to broaden the reach of their respective careers.
Persistent
The new reality for leaders means that focus and patience will be tested. The ability to self-motivate and self-start as a leader is the new normal. Leaders will need to not only persevere but also ensure that those they are leading also persevere. Greta Thunberg shows how persistence pushes to achieve goals irrespective of age.
Intellectual Humility
Leaders should have the ability to serve others that they lead. Leading also means knowing when to support and help others to also achieve their purpose and full potential. Dr. Ify Aniebo Rhodes-Vivour is using her platform to mentor women in STEM to also access international opportunities and lead in this unique space.
Passionate
The future leader will thrive with need to be radically passionate in this new reality. The passion will need to be contagious in order to drive team success. Enthusiasm from within will need to push others that they lead to commit daily to goals irrespective of challenges and mindsets just like Toun Okewale-Sonaiya, CEO of Nigeria's first women only radio station, Women Radio, consistently shows.
Leaders are constantly evolving to ensure they positively adapt to the changing realities and lead with success. They need to be emotionally intelligent and show compassion. It is not late, check what you may need to become better at and commit yourself to developing for the future.
Source- Rethinking leadership in a new reality by Marian Temmen