Our Values
HARD WORK
The deligence in putting the required effort into doing anything in order to achieve desired result. We believe that success comes through sets of pre-determined hardwork.
EQUALITY
Giving a person same standards (as you would do anyone else) in status, rights and opportunities. We seek for equal platforms to achieve and live our dreams.
INTELLIGENCE
The seeking after and application of knowledge, skills and abilities for use to ones own advantage. We believe a woman's greatest asset is her Intelligence.
RESPECT
The treatment of a person with great importance, admiration and immeasurable value. We believe that women are to earn respect due to their abilities, qualities and achievements.
About US
Passionate about women equality and inclusion
HEIR Women Development and HEIR Women Hub are social enterprises born out of the need to see more young women take on more decision making position and venture into leadership opportunities.

HEIR is the representation of our values which are Hardwork, Equality, Intelligence, Respect. These are values that women across all nations, need to be equipped with, imbibe and adopt.

Mission – To support in the elevation of women for leadership and decision making positions.

Vision- To see a nation where women are chosen and included in nation building.

Goal- To be the one stop shop for tools and skillsets relevant for today's woman in order to give her a fair and balanced platform to lead.
HARD WORK

EQUALITY

INTELLIGENCE

RESPECT
Trending Content and News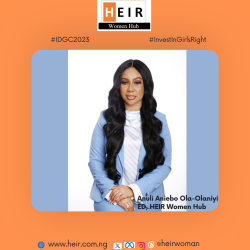 In trying to unpack this theme, I reflected on the power dynamics and relations in order to try to re-think a realistic and sustainable possibility of reimagining girls as future leaders. Some institutions of power, discipline, and orientation across platforms have settled on projecting a discourse and the normalization of who a leader is (or[…]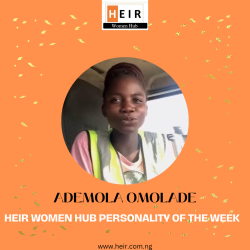 Dear woman, here is a story to remind you that you have the power to create your world. Ademola Omolade, a 22-year-old truck driver from Ogbomosho, Oyo State, born in Osun State, has said that she cannot drive a car despite driving trucks. Stating how she began to drive trucks, the young lady noted that[…]
Previous
Next