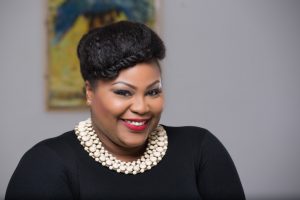 Wana is a producer and director of the documentaries Sensitive Skin a documentary film about the skin condition Psoriasis, Nylon a short documentary on memory, trauma and loss and the documentaries-series Warriors exploring the lives of people with sickle cell disease. She is creator of the poetry series Words and Inspirations and the interview series Culture Diaries. She wrote and directed the web series Room313 and the short filmShrink. She plays Visha in the award winning Burkinabe film Frontiéres 
She has worked with the BBC Radio4,  BBC world service, 92.3 Inspiration FM and Resonance FM. Her work has appeared on Aljazeera,Guardian UK, Guardian Nigeria, Index on Censorship, and Brittle Paper
She graduated from the University for The Creative Arts with a first class degree in Journalism. She is creative director of WanaWana productions and hosts the television show Airtel Touching Lives.
Interested to know how this media lady keeps all her creative work in equilibrium, Añuli interviewed Wana for some insiders tips.
"Wana is a Journalist, poet and filmmaker whose work is at the intersection of women's rights, social justice, personal narratives, culture and the arts'. Tell us how your journey began?
I wrote poetry as a teenager. It became a source of catharsis for me. I studied journalism at university and I always enjoyed cinema and documentary so I decided to try my hand at it as opposed to talking about it so much
You have been in employment before launching out to create your own niche. Would you say employment helped hone some, if not most of your skills?
Working in full time employment helped in many ways. Whether it was pitching ideas or having a 360 view of how the media worked and of course the general discipline of managing your time.
On Air Personalities (OAP) in Nigeria are seen or celebrated as celebrities. How do you keep evolving and stay relevant?
I don't think I ever saw myself as a celebrity and I still don't. I have always focused on the work and that is what I continue to do. Make sure that my work is getting better, I learn more interesting ways to engage and connect with audiences but I think what drives me stays the same. Which is about how I can tell powerful and meaningful stories that can make an impact.
While working as an OAP on Inspiration FM, where you also doing other gigs? Please tell us what they are.
I was mostly writing and performing poetry. So I was a columnist at NEXT newspapers, wrote for Bella Naija and other platforms. I was also hosting events and moderating panels and discussions at conferences. I also worked with brands on marketing campaigns as an influencer. I did a bit of TV presenting but none of it was a conflict of interest to my full time job.
You currently host Airtel Touching Lives. Where you holding down a day job when this opportunity came? What would you say was the x-factor that made you the preferred choice to host this show?
Yes I still worked on the radio whilst I shot both the first and second season. I really can't tell you if there was anything special but I hope that my genuine interest, commitment and need to connect came through and fingers crossed that was something that stood out
So which of your roles or jobs would you say are main and side hustles?
I think hosting events are a side hustle but everything else part and parcel of my career. I think when you see things as a side hustle then they become that.
Journalism, poetry and documentary film are all full time careers I juggle and I put the same soul, energy and resources into each and every one.
How do you give your all to your hustles and still deliver top quality work?
I don't really approach anything as important from the other. I see it all as one entity with myself as project manager. This for me means that adequate planning, time management with expectations and deliverables go into everything that I do.
You just aired a Youtube Series called Warriors. Before that, you aired Culture Diaries and Room 313. Tell us of any challenges or obstacles in shooting these series and how you overcame them please?
Money is the main obstacle. These projects have all been self funded which means a lot of the time, you are pulling in favours so you have to work around other peoples time as they are helping you out. So you don't have as much control as you would like because you are working around other peoples schedules and dependent of their goodwill.
Now, let's talk finance. How have you been able to get your work (side and main hustles) out to the world without going bankrupt?
I really take advantage of the internet and social media. It has been quite revolutionary in helping to not just share my work but in building a community and audience for the work. And most of that takes my work than money. I literally live online.
Please share 3 quick tips in ensuring one stays on top of their purpose be it career, side hustle, business or entrepreneurship.
I would say Planning, Time management and Create value (be the best at it). Do all you can to show that you are the best at it.
—————————————————————————————
Share your story with HEIR and get people motivated in their careers.
HEIR supports you to create value in your career, connect with us on our social media handles, Twitter and Facebook – @heirwoman