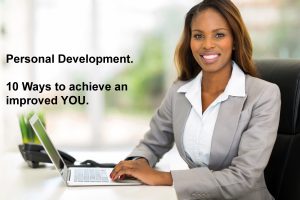 Many will ask the question "How do I become a better person?", "How can I get my goals achieved?", "Can I get into a better and healthy relationship?" or "What can I do to improve my career situation?"
The sets of activities and processes that can inevitably grow you intellectually, emotionally, spiritually, improve your talents, aspirations and goals as well as move you from a point in your situation to an even better position is known as self or personal development.
Personal development is a continuous process and gained over a period of time. It is a life long process. All you need is the vigour, drive and the desire to maximise your potential.
How can this be achieved?
Start NOW – there really is no time better than the present. Do not procrastinate. Take the bull by the horn and resume personal responsibility for it.
Poco a Poco (Little by little) – start with a small goal that you can accomplish.
Learn – this can be from others experiences and learning. I recommend you also seek to learn from mistakes of others too.
Read– this isn't flogged enough. Intellectual capacity is essential for anything worth doing. So, read.
Adapt to change – the most uncomfortable situation can also be for us a place of learning. Embrace change, however it may come.
Take responsibility – become your own task master.
Walk circumspectly – be purposeful and intentional and what you do and how you do them. Do your best to avoid mistakes.
Increase the challenge – set yourself an expectation that is higher than the former.
Be flexible in growing knowledge– do what you don't like to do as well. You never know until you actually try. Be curious to find out about things in and out of interest.
Keep keeping on– celebrate highs, appreciate the lows, recognize growth and do not let go of your development
Do you need support with working out a plan for yourself, reach out to us, we are listening.
Register to attend our upcoming Hire Me Bootcamp on Employability Skills for March 2018.
Connect with us on social media – Facebook and Twitter
To your success!