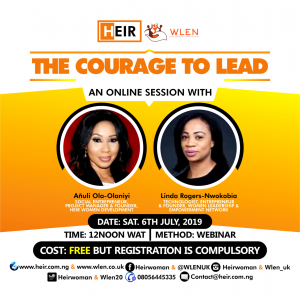 "In the future, there will not be female or male leaders, there will be only leaders" – Sheryl Sandberg.
Join me and Linda Rogers- Nwakobia as we facilitate this webinar titled 'The Courage to Lead".
Women Leadership and Empowerment Network in partnership with HEIR Women Development, presents this interactive online session, where we discuss how to develop braver and more daring leaders to embed the value of courage in our culture and navigate change.
Leadership courage is a collection of four skills, join and find out in this workshop.
When – 6th July 2019
Cost – FREE.
Registration is Compulsory -Go to WLEN and  secure your space.
For more information, visit Women in Leadership and Empowerment Network