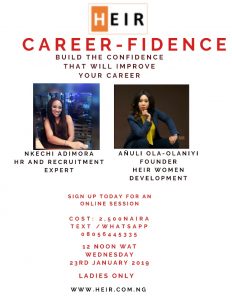 Do you struggle with confidence?
Has lack of confidence cost you your career?
Would you like to have a better career footing this 2019 with an improvement in your self-confidence?
Sign up for this online session on Career-Fidence with leading HR and recruitment experts and Learn 
-Why self-confidence is important for your career growth
– Discover some factors that kill your self confidence in your career
– How to build the self-confidence that will benefit your career
Date- Wednesday 23rd January 2019
Time- 12 noon WAT
To sign up, 
1. Text/WhatsApp the number 08056445335 and reserve your space. 
2. You will get a response and instructions on how to pay for the session 
3. Once payment is confirmed, a confirmation of space will be sent to you.
4. You will receive a link to join the session accordingly. 
This is a Ladies only event.