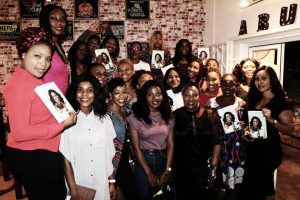 Happy Women's Month!
I joined a book club, Books and Dessert Book Club, made up of only women readers and have been super inspired by every woman's individual uniqueness. Surrounded by intelligent and yet witty and fun souls keeps adding to my very positive perspective of a power tribe of women.
March is always a time we specifically and purposefully reflect on all that has to do with the woman. From being a young baby girl, through teenage process and a young adult and then working towards being a full, matured and grown woman, women are taking on renewed ideologies that celebrate their creation and relevance to this world.
Reading Michelle Obama's book with my book club members was one major shift that further affirmed the similarities women have with each other. I was humbled to read that the former First Lady of the United States of America, shared very similar fears, struggles, joys and goals like me! It is a book that will take you on a journey about yourself, without you seeing your name in it's pages.
A recent study conducted by Mckinsey on Women in Leadership enlightens readers on how women can maximize their potential. I learnt a lot from this research. In no particular order, the 3 things that stood out to me are:
Finding Meaning
It is important that one is able to identify the 'why'. This will help achieve sustainability of purpose and bring consistent satisfaction.
Prioritise and Manage Energy
Less of multitasking, more of prioritising how energy is expended and conserved. Engage in what keeps your energy flowing from and into the right place and direction, stay away from things that can cause a drain and deplete your energy.
Maintain Connections
Find, develop and nurture networks that add value to you as a person and to your overall being. Your hopes, dreams, development, growth, goals, needs, aspirations can all be positively maintained and achieved through really credible and super supportive group of networks. Find yours and connect.
"The woman is intelligent. Once she begins to re-align her thought processes to this truth, be deliberate and intentional, the world will balance for better". – Añuli Ola-Olaniyi
To your success!