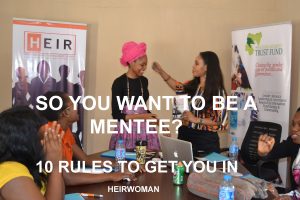 Mentoring is a delicate yet rewarding relationship between two people. It serves the purpose for one person (usually the mentor) to share skills, experiences and professional connections with another person (usually the mentee).
A mentor –mentee relationship is one that is built on trust, transparency and collaboration.
The benefits of being a mentee can be very rewarding however not everyone really understands the commitment.
So, if you really want to be a mentee, keep reading to discover how to get into this to support you in getting the best from a mentor.
Rule 1: Be sure of what you want.
What exactly do you need mentorship for?
So many come masked with the need of mentors but all they want is a profile name, financial support or even a job placement. Not that all these are wrong, but be specific and articulate your goals. Mentors are experienced and wiser than you and can smell a fake mentee from afar. Avoid giving an impression that may negatively affect you later on.
Rule 2: Be ready for what it entails.
Hard-work (an ability to work hard) is absolutely inevitable. It was what brought the mentor to the position they are today, so why do you think that won't apply to you?
Guard yourself and be ready to work extra hard to get the knowledge and 'know how' from your mentor. Once you have identified your goal, you also need to identify what it will take to meet those goals and be ready to apply them.
Rule 3: Your progress is your responsibility
While mentors may support you in ensuring you progress by aiding you the best way they can, they cannot force you to do progress. It is totally up to you so be ready to take responsibility for your progress. This means, take action, make plans, implement them, seek for better ways and actively walk in them.
Rule 4: Adapt to Learning and Development Styles
They are your mentors for a reason and have accumulated learning styles that work best. Your duty as a mentee is to adapt to the methods of learning. This is not the time to complain and biker, it is the time to learn new skills for your future and the styles of learning given is most likely what you will need at that moment.
Rule 5: Know the words: Sacrifice and Compromise
Absolutely no great and admirable thing comes from doing nothing. As a mentee, know what it means to sacrifice and compromise rightfully for what you will need. Remember that your mentor didn't get to that position good enough to mentor you by dropping from heaven. He/She worked through and may have sacrificed something to be where they are. I must draw a line here- you are not advised to fall into a trap that de-values your mentor-mentee relationship.
Sacrifices or a compromise, that is commendable and of good reports is encouraged and rewarded.
Rule 6: Constructive Criticism are most likely
Criticisms, when well constructed and accepted, can propel your tasks and goals towards a positive direction.
There is a way of pointing out what could be done better and you are required to take them with a lot of maturity and wisdom, and positively apply them. They are designed to help you progress in a task or even while working on your goals. Ensure you know the difference between criticisms and abuse and be sure to know how to utilise them.
Rule 7: Mentors need space too
To get the best out of your mentoring, it will be beneficial for you to create a schedule that allows your mentor some time for themselves. Carefully articulating what you want with a good timeline that works for both parties, allows the mentorship to be a creative place and not a frustrating space.
Rule 8: Financial conversations are volatile
While mentors may be willing to support you financially, remember that, this was not the reason for the mentoring relationship. Again, clearly articulate your goal from the onset. What do you want from a mentor? Pretence does not help you nor the mentor. Also note that while financial assistance is totally up to the mentor, no one is obliged to do so. Be careful, if this is what you may end up with down the road. And don't be fooled, your mentor can easily sense your need. That is why they are the mentors.
Rule 9: The beginning has an end
Always remember that the process is time bound. Be sure to never take any time with your mentor for granted. Set your goals, share them and set a time on when they will be accomplished. Let your mentor also be free to advice or decide (as the case may be) what the best option for you might be.
Rule 10: Do your mentor proud
The end of a thing is better than the beginning thereof. Every mentor will be glad to celebrate the success of a relationship. So, apply all the rules and make it work.
Finally, always seize every opportunity to appreciate your mentor or mentors. They are there to limit the mistakes and give you a shoulder to climb on. Avoid burning bridges, you may need to use them one day.
Who knows, one day, you too may be a mentor.
Connect with us on Facebook and Twitter and get your FREE copy of our acclaimed EMPLOYABILITY SKILLS MANUAL straight to your inbox. IT'S FREE!