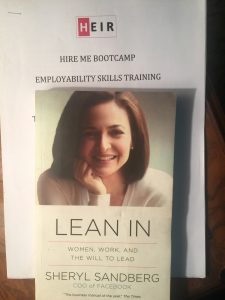 Employers need employees. Are you the kind that will get that job and stay employed? Even entrepreneurs or business owners need to know what skills they will need for the team that can support in achieving the vision.
NOT EVERYONE CAN BE AN EMPLOYER BUT EVERYONE CAN BE THE BEST EMPLOYEE.
Look no further. Get our free copy of the Employability Skills Training. NO COST!
Just follow us on Twitter @heirwoman
Follow and like our Facebook page @heirwoman
Email anuli@heir.com.ng when you have done so.
We shall send you your FREE COPY as soon as we verify. Please note, you need to send an email so we can send you the copy through your email account.
Well, what are you waiting for?
Disclaimer: The manual is free. The book by Sheryl Sandberg- LEAN IN, can be purchased at your nearest bookstore or ordered online. The book is not free nor is it for sale by us.