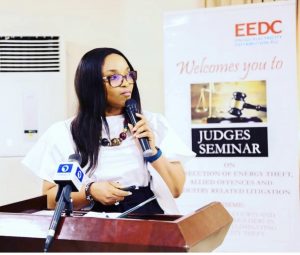 Rahila Thomas has built a credible career in Power and Energy even though she studied Business Administration as her first degree.
Rahila worked as the Technical Assistant on Energy Matters to the Minister/Deputy Chairman, National Planning Commission, she was appointed Special Assistant to the Ministers of Power appointed between 2008 and 2011, and was responsible for reform and commercial activities geared towards the sustainability of electricity supply. Rahila also joined the Presidential Task Force on Power as Technical Adviser providing regulatory and transaction support to BPE Electric Power Team on the implementation of the Power Sector Reform Programme. She is currently the Country Director, Energy
She believes that the energy and power sector can do with more young women embracing this career path develop in it and ultimately, find fulfilment.
Rahila shares about this and more with HEIR Women Development
What was your first job?
I finished my first degree in 1999 with an upper class in Business Administration from the University of Abuja with so much excitement to join the work life, which is one of the marks of adulthood. This starts with NYSC so I was first posted to Ministry of Information, which I did not fancy at all. I was told about a government office called the Bureau of Public Enterprises (BPE). BPE is the Secretariat of the National Council on Privatisation (NCP) chaired by the Vice President with very few staff and one of the well-paying parastatals at the time for Corpers.
Long story short I met with Mallam Nasir El-Rufai the Director General of BPE at the time (now Governor of Kaduna State) who immediately took me in as a Corper. I was delighted to work in a place where Corpers were not just for photocopying and running tea and food errands as is typically the case. I was posted to the Electric Power Team developing a reform plan for the Nigeria Electricity Supply Industry (NESI) where I was eventually made the secretary of the team. After a year of my youth service, I became a full-time employee as an Enterprise Officer in 2001 working on the Electric Power Reform Programme of Nigeria. So BPE was the launch pad for my career.
Which part of STEM are you currently working in?
STEM is an interdisciplinary and cohesive model, which is very hard to pull apart when applied in the real world. Science, technology, engineering and mathematics is fully integrated in our daily lives. So as a Power Sector Consultant providing services to the value chain of the electricity business these four subjects are interwoven. There is science behind the birth of electricity, which is carried through technology and engineering to consumers with a great deal of mathematical computation applied to ensure value for the services given. This will include returns to the investors that inject capital and good service to those that need to pay for it.
How did you become or end up as a STEM employee/employer?
Well I started out as an employee with the BPE researching, reading and analysing so much data and history with case studies that involved the qualitative aspect of STEM to develop the National Electric Power Policy in 2001, Electric Power Sector Reform Act 2005, electricity pricing and tariff regime, designing of the electricity market and different codes for operations and to regulate the market. In my 12 years of working in public service, which includes being an adviser to various ministers of power I was exposed to power producers who build power plants using different technologies I had to understand to do my work more effectively; such as a gas-fired power plant, hydropower, coal, solar e.t.c.
Then in 2013 I made the switch to private sector when I joined AF Mercados, which provided advice and support to regulators, distributors, generators, investors and operators in the power and gas sector around the world. It was an international engineering and consultancy firm quoted on the Swedish Stock Exchange. I opened the Nigeria subsidiary and became the Country Manager. This led me to the quantitative aspect of STEM, which was needed to provide proper advice on different power transactions such as the privatisation of the Power Holding Company of Nigeria, which gave birth to eleven privately-owned distribution companies, one transmission company fully owned by government and six privately-owned generation companies. A lot of technical and financial due diligence is often required for investors and operators that want to get into the power sector space, which my company provides as one of our many services involving STEM.
Today as the Country Director at the Energy Market & Rates Consultants (EMRC) Ltd, which is part of a family of nine sister companies with presence in 10 major cities in the world; our team is multi-disciplinary with backgrounds in economics, regulation, electrical and gas engineering, energy systems, power and gas trading, finance and banking. We promote economically efficient and sustainable energy markets; design effective regulation conducive to sustainable, affordable services, and assist in the evaluation of investment opportunities to reach successful closure of commercial transactions.
Looking at where you are today, would you have told a 20-year-old younger self anything different?
Hmmmmm…. what would I have told my younger self 23 years ago – Rahila you should be more vocal. Spend more time reading to build the confidence required to speak out when you need to without the fears of being shut down or not heard because you don't sound right or not sure if you are right or wrong. Always speak up!
A large part of the Nigerian schooling system back in the days required students to cram (especially for exams) rather than reading to understand and articulate a position from their standpoint. Learning was more of listening and giving back exactly what you were thought and given to read. You were not really expected to express all that from your understanding of it. I was tomboyish but also very timid. All this does have its limiting effect which I had to consciously work at undoing.
Share some key decisions, actions or advice that propelled you into your role …. 
There is always a lot of talk about calling, passion and purpose, which is good, but the cycle of life and circumstances make these dynamic. I had always wanted to read law, which I saw at the time as a very prestigious profession (still is) but just when I was to start at Ahmadu Bello University in Zaria, the school went on strike, which went on for over a year and my dad said I cannot be seated at home just wasting time. So, he got me into the University of Abuja to study Business Administration. When I finished, I wanted to be a banker as I use to admire all those young ladies and guys in suits always smartly dressed but NYSC did not take me down that path (fortunately I can say now!).
Instead I was propelled at the time to join a government parastatal like I mentioned earlier. I was pulled into a team that had the mandate to develop Nigeria's power sector reform programme and implement it. I found it very interesting and engaging reading, discussing and preparing policies and discussion papers, working with top level government officials and consultants all around the world as we walked up the building blocks of reform. I was exposed to the work ethics and thinking of multi-lateral agencies and financial institutions. I was given the opportunity to occupy a very critical role as secretary of the power team, which one may have looked at as the low end of a job, but I became the repository of all power related work. It was the norm at the time to have staff rotate through different departments of the Bureau of Public Enterprises, but I was never moved. I was diligent at my work, committed and studious, always going the extra mile. All these did not go unnoticed by those who God used to influence and propel me further in my career path to becoming a power sector consultant today.
What will you say are the proudest accomplishment in your career… 
I think I would put it in the context of accomplishments that have given me great sense of satisfaction.
I was an integral part of the team that developed the Nigeria Power Sector Reform Programme but more interestingly was the rare opportunity I had to be part of the preparation process for power privatisation on the government side and then moving to the other side of the table as a consultant who advised investors who successfully made the purchase.
I established a subsidiary of AF Mercados in Nigeria, which I mentioned earlier and now known as EMRC. With a formidable team I have been able to sustain the business through our advisory services in an industry that is in liquidity crisis – an indication of our relevance but more importantly the quality of professional services we provide.
By the grace of God as the driver behind the wheel of EMRC SI anticipate remarkable accomplishments in the coming years as we lay our footprint across the Continent.
Women in STEM are bold. What has been your boldest move to date?
Well I think one of the boldest moves I have made career-wise is leaving a secure public service job I had with the BPE in 2007 (though I took leave-of-absence) when I accepted the Special Assistant position on Energy to the Minister/Deputy Chairman of National Planning Commission. From that moment I never looked back to BPE as an option even when I was never sure of the next job. All I had was my qualifications, experience, diligent ability and God who moved me from one position to the other without struggle or human connections. The Bible says if you are diligent at what you do you will rule – a diligent spirit shows care for the work they do. They are conscientious about the duties they perform, tenacious, persistent and committed.
What are the joys and challenges of having a STEM career?
Like I inferred earlier I am not an engineer, scientist, mathematician or an IT specialist but the work I do and the power industry where I provide my services requires a union of all these fields to support projects and transactions. So, the challenge for me as a power sector consultant with a BSc in business administration and MSc in energy finance it requires me to read a lot more to understand the fusion of these fields that are not core to me. The joy for me is continuous education isn't it? lol!
Is there something about STEM careers that women need to be aware of… 
Nothing unique comes to my mind.
However, I will like to say that the STEM field has a big connotation that the only people who are qualified to be in this field are 'smart individuals' and it is a 'man's field' where girls do not belong. This can be very discouraging for a lot of young women making career decisions. Therefore, confidence building for a girl-child from early stages is key.
Young women are under-represented in STEM. What advice would you share to people starting a career or building a professional business in this field….
In a nutshell read, research, know your filled, associate with like-minds and speak up!
If you had a Mentor, what was their best advice that helped shape your role in STEM…
I had four bosses who shaped my professional outlook – one thought me how to be meticulous in writing and critical in thinking and analysis. The second built my confidence by showing so much faith in my ability. The third made me to understand the need to consciously develop substance with a professional look in dressing and carriage. The fourth put me on the table with policy and decision makers, which gave me a voice that keeps ringing in the power sector today.
Women face challenges in career in general. As one working in a STEM career, what are your biggest setbacks … 
Nothing I can discuss as a setback at the moment. Fortunately, I have not made any mistakes working in a STEM industry. So apart from the usual sense of being undermined as a women in a man-dominated industry I just get on with it.
Enlighten us on the lesson Iearnt from this set back ….  
In relation to the last question….no applicable to me in this case.
Careers help to build the many skills. What skills have you built so far through STEM?… 
The different power generation technologies – thermal, coal, solar, hydro etc.
Tariff design and analysis, generation and load forecasting, network expansion and dispatch planning,
Would you say we have role models that are motivating young women to have careers in STEM? Please share who they are..
There are so many now breaking stereotypes in STEM careers. Those I find interesting are the likes of…
Tolu Oni who is establishing the Research Initiative for Cities Health and Equity (RICHE), a research programme for urban health research in Africa;
Funke Opeke, the founder of MainOne described as West Africa's leading communications service and network solutions provider
Regina Honu is a Ghanaian software developer and one of the few women making strides in technology in Africa
Blessing Kwomo is an Anizisha fellow, a Nigerian entrepreneur who established De Roroboth therapeutic studio to deliver home based healthcare for low income families.
Ethel Coffie is a Ghanaian ICT entrepreneur named as part of top five women making an impact in IT in Africa. She is the founder of Women in Tech Africa which has over 30 members in Africa countries and the diaspora.
Sarah Osikhuemhe in Northern Nigeria works with Abo Coders to train young women in advanced tech skills as a pathway to sustainable livelihoods.
Ivy Barley a Ghanaian runs Developers in Vogue, a free and flexible coding bootcamp for women. It provides on-site and online training, individual mentoring and job matching
Do young women have what it takes to pick up a career in STEM? Please share reasons..
Young women like men have all it takes, and this is strengthened by a brilliant article I recently read titled 'The Science behind Why We Need More Women in STEM and Leadership'.
The STEM field is more often projected as an uncomfortable or not safe a space for women. There is also an unconscious myth projected in girls from a young age that boys are better at maths (fundamental to STEM) and they at reading. So, maths anxiety for example, which a study showed is seen more in girls was my experience all through junior and high school and this discouraged me from STEM related subjects. The society in general still adheres to and reinforces gender roles, which is one of the ways that social norms and stereotypes negatively affects girls.
Therefore, from a young age parents need to consciously foster positive vibes about math and actively introduce 'non-stereotypical' role models such as female engineers, scientists, geologists, computer programmers to girls at an early age so interest in STEM education can flourish. No doubt that a more equal combination of men and women in leadership and STEM careers would improve creativity and innovation leading to positive economic and socio-cultural change.
The key thing is to have or identify appropriate mentorship to bring out the best in the young upcoming women who have everything it takes to succeed in STEM related fields. I will like to recommend two books that would inspire young ladies to lean into STEM fields – Hidden Figures by Margot Lee Shettery and Women in Science: 50 Fearless Pioneers Who Changed the World Book by Rachel Ignotofsky.
If one searched the web for, what won't they find… 
…a woman going places 😊
How do you stay inspired in your career?
I have a formidable team I work with that keeps me going in this field – they always make me standout. The power sector is greatly troubled at the moment, but I know that it has to work out for Nigeria to progress, so I hope to be part of that breakthrough when it does happen, and things start shaping up.
Some say the future is female. What do you think and why?
I could not agree more with a statement by G.D Anderson, which says '…Feminism isn't about making women strong. Women are already strong. It's about changing the way the world perceives that strength…'
This we saw play out in the new US Congress that was sworn in this year as there was a record number of women, including the first Muslim women, as well as the youngest woman ever elected to congress – Alexandria Ocasio-Cortez.
Ethiopia's reformist Prime Minister, Abiy Ahmed in October 2018 put in place a new cabinet and half the ministers are women – there are 20 ministers in total. This is an unprecedented push for gender parity in Africa's second most populous nation. Most of the women were given top positions
Rwanda has the highest number of women parliamentarians worldwide. Women there have won 61.3% of seats in the lower house, Cuba with 53.2%, Bolivia 53.1% but a greater number of countries have reached 30% or more.
The Saudi women driving ban was finally lifted in June 2018 and it elicited a lot of joy even if the restrictive guardianship system still keeps women from equality; it is one step in the right direction that can potentially lead to so many other liberating prospects for women in that region.
Nigerian women constitute about 49% of the population – this is a material number in the era of wide spread feminism, all manner of STEM programs and platforms pulling young girls to apply themselves, women-CEOS springing up, women in politics though few but there those that make for great mentorship – Dr. Kema Chikwe, Senator Khairat Gwadabe, Ngozi okonjo-Iweala and Senator Patricia Akwashiki known for mentoring young female politicians are a few of my favorite personalities in this space.
In the Nigeria power sector space women are taking their place in promoting engineering and the renewable energy technology.
At the centre of this is the first woman MD of the Rural Electrification Agency (REA) Damilola Ogunbiyi who is relentlessly driving energy access through different technologies and business models.
Heather Onoh the CEO of Smart Grid International was nominated by Ubiquitous Energy as the voice of LIGHT FOR ALL – a global initiative addressing the needs of the unbanked and energy starved populace.
Habiba Ali the Founder/CEO of SOSAI Renewable Energy Company based in Kaduna State has in the last five years become a renowned force in the evolving field of renewable energy in Nigeria as the go-to renewable and biofuels company.
Dolapo Popoola is MD of the Kaduna State Power Supply Company set up to implement On- and Off-grid Energy and Power initiatives of the Kaduna State Government. She is a Siemens-Certified Power Distribution and Renewable Energy Specialist. As the Senior Special Assistant on Energy to the Governor of Kaduna State she led the Kaduna 1.7MW solar project for a healthcare project, which had solar systems installed across 34 clinics impacting over 200,000 lives.
Hannah Kabir is the Founder/CEO of Creeds Energy established in 2012 and has installed 250 kilowatts (KW) of renewable energy solutions impacting over 2,000 lives. She has a vision to be recognized as one of the top five renewable energy companies in West Africa, distinguished by quality, innovation and professionalism.
Ify Malo, is the Founder/CEO of Clean Tech Hub and the Energy Innovation Centre based in Abuja, which serves as an incubator for new ideas and technologies, and businesses. She is also the Country Director for Power For All in Nigeria, an international organisation, globally recognized for building platforms and collaborations for distributed power; promoting access through decentralised renewables; and employing communications, advocacy and strategy to advance energy access and address energy poverty.
So, there is established and growing evidence that the future is female. The numbers may not be as high, but it is a movement that needs to be encouraged. Women are intelligent, capable with less ego and greater passion to make a difference in any field be it STEM related or unrelated.
Are there projects you are involved in that we should know about?
One too many projects that supports the electricity distribution businesses in Nigeria and advisory roles to a number of power project developers and investors.
Thank you for such detailed insight to following a STEM pathway and sharing your career path with us.
If you need to contact Rahila for more on this interview and STEM Pathway, please send us an email on contact@heir.com.ng