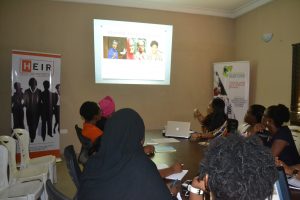 April Edition of the popular Hire ME Bootcamp was held at the Nigerian Women Trust Fund Office. It was attended by interested participants and young women who are currently benefiting from the organisation's mentoring programme.
The main aim of the bootcamp was to educate the attendees on essential and required employability skills needed to gain a job and progress in their career or chosen field.
Irrespective of the high statistics on unemployment, jobs still exists wither through new business creation or entrepreneurship and so, employers will need employees who are skilled and can deliver on the job.
This bootcamp shared 14 essential employability skills with the attendees. Feedback from the participants showed that more of this kind of training is needed to set young women up and ready to lead and take on decision making positions.
We exist to ensure young women are equipped and supported through their career journey. Join the movement and follow our twitter handle @heirwoman.
For more on this event, please visit our gallery page
[sgmb id="1″]