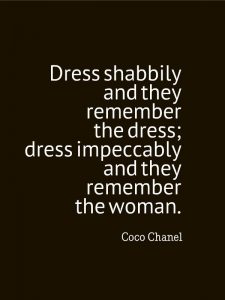 So, you landed a job interview slot and now actively preparing for the day to come. One thing you should strongly also prepare for is your interview session wardrobe.
I have come across so many candidates who take little or no time in considering what their professional look at job interviews should be. I have had to start my interview session by first asking if the candidate was aware that they were coming for an interview and why they did not think that preparation for this opportunity also includes the wardrobe.
Organisations may have what is called a 'wardrobe culture' and while it may be good to find out what the dress culture is for the company, I would suggest that you still play it safe and dress in a professional business attire.
Some simple rules to help you avoid a wardrobe malfunction are
Be Neat/Clean
Be comfortable
Be smart
Minimal distraction
Wear cool colours
Use a perfume/cologne with discretion
Applying these rules to your wardrobe preparation will help you gain the impression you are looking for. For example, an outfit for ladies that shows cleavage is not smart. If the dress or skirt is too short to enable you cross your legs at an interview, that's an uncomfortable outfit.
If you are a male candidate, groom yourself to enhance your appearance and apply the rules above.
Always remember that making a first impression is important and dressing professionally can go a long way in securing your dream job.
Do you have a question or you need to know more? Send us an email or call us.
Better still, register to attend the Hire Me Bootcamp on the 29th Oct in Abuja
To your success!
Anuli
Picture Source- Pinterest
[sgmb id="1″]