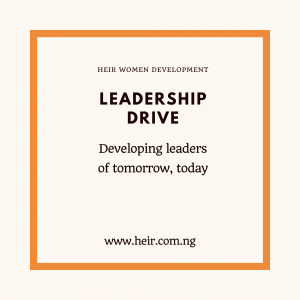 Leadership: HEIR Women Development and HEIR Women Hub believes that women and young women are powerful change agents. The far-reaching benefits of development through gender parity in leadership and decision-making must be increasingly recognized. Our mission is driven by the need to improve the positioning of women and young women as leaders and decision-makers at all levels; We strongly believe that these are critical to advancing gender justice equality and furthering economic, social, and political progress for all.
We enable programs that advance the implementation of legislations, conventions, and policies that promote equal participation and protection of girls, young women, and women in both public and private lives; More importantly, we focus on addressing all forms of gender-based barriers, including gender-based violence and exploitations that reinforces gender inequality in Nigeria.
Education: HEIR Women Development and HEIR Women Hub is keen on enlightening girls, women, and the general public on gender issues through public sensitization and advocacy campaigns and facilitating increased access to information on gender equality. The team leverages all means of communication, such as radio and television stations, to improve awareness of existing conventions, policies, programs, and legislation about gender equality.
Empowerment: HEIR Women Development and HEIR Women Hub understands that the socioeconomic status of young women and women must be enhanced to balance power relations between both genders in Nigeria. By providing social and economic opportunities that ensure self-reliance, we believe young women and women will be well-positioned to lead decent life while contributing to sustainable national development. Therefore, we organize gender-focused life coaching sessions, skills development workshops, boot camps, conferences, a mentorship program across all the sectors to ensure that women and girls are equipped with the required skills that will promote their socio-economic emancipation.
Movement Building and Strengthening: HEIR Women Development and HEIR women Hub leverages existing and new strategic partnerships to ensure effective and efficient creation and strengthening of a movement of young women and women geared to change the narrative on gender equality and confront socio-cultural drivers of gender inequality.
In sustaining movement-building wins, HEIR Women Development and HEIR Women Development attempts to enable and support organizations and movements by providing consultations that ensure organizational programs and structures are gender-sensitive and responsive while equipping women and girls with resources designed to inspire and equip them with the knowledge, skills, and techniques to build grassroots social movements that will lead to desired change.