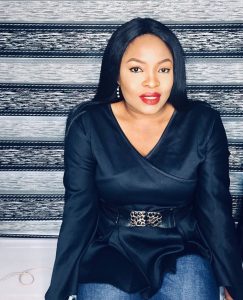 Marilyn Oma Anona is one woman who has effectively followed a path that has given her a platform to lead and influence other young women positively.
A realist, she tells it like it is. She has initiated many campaigns to improve the attitude, thinking and mindset of young people. Initiatives like the S.A.D campaign (Suicide, Anxiety and Depression) creating awareness about mental illness among youths, and the Un-sung Heroes awards which recognizes and gives awards to people and organisations making a difference in our nation. Oma has had a career that is admirable. She shares some with us.
1. My first job ever was… 
My first job ever was during my industrial training which was 3rd year in the university. It was quite an experience. It was compulsory and for 6months which formed part of school assessment. I enjoyed it so much. It made me feel so responsible. Afterwards was NYSC which was also compulsory. After my NYSC with UNICEM (United Cement Company of Nigeria) Calabar, I was retained and I stayed back for a couple of months before they had some sort of set back and had to lay some people off starting of course with the green hands like me. So yeah, these were my first jobs.
 2. I would tell my 20-year-old self…  
Well, I think life is a process and all I did at 20 were just ok. I am the first child so it's only natural that I be the GUINEA PIG for most things. But on the whole, they were all natural experiences that helped shape me into the OMA that I am today. No advice per say.
3. I decided to be a Journalist/Media Enterpreneur because….
I am not a journalist. 
I am not about news and reporting. I am about issues, contents and broadcasting them in a bid to influence and make an impact. 
Funny I am supposed to be a medical doctor which I am certain would have left me overly u satisfied. I am glad about the path I am on because it is inline with my calling, love and passion. 
I was this brilliant child and due to the African mentality, lots of people expected me to be a DICTOR but that would have been the death of me. 
After my NYSC, my dad made efforts to see that it's all about medical sciences but I was so obstinate about the things that I wanted for myself. 
Not studying the arts, communications or journalism in a society that is all about paper qualification did not make it easy but it was clear I had the cerebral capacity and the talents plus versatility needed. I knew I wanted to do this even though I was oblivious of all that the business angle entails. So after I quit my job, I took it upon my self to go fully into the sector. I stopped applying for jobs. Went for auditions. And each time I go even when I was not taken due to age or other factors, the people will always acknowledge my talent telling me I would go places. Before then, I was writing and amassing such great audience on Facebook. So I went for one audition at a media house in Wuse zone 1, was taken to be a contributor in their monthly magazine and also anchor their show on NTA International.
After some months I left the company due to some conditions I could not deal with and went for an audition at MYTV AFRICA.
There were over 100 people but I was chosen and that was what fully started the journey and I knew there was no going back.
It gave me a lot of exposure and I enjoyed the entire experience. I kept getting calls from other TV houses and one day I said to myself, why not start your own brand and get to grow it and yes… 
here we are!
4. My proudest accomplishment are…
I am not a TV girl that is all about the glamour. I actually get offended when someone insinuates that media women are some sort of bimbos or just about makeup, beautiful dresses and the red carpet. 
I live for impact and restless till I achieve something especially about nagging issues. I totally believe that media is a great tool for societal transformation. So my proudest months are times when I successfully conduct projects that are aimed at making lives better. And getting to hear from folks that as small as I am, I inspire them. 
5. My boldest move to date is… 
Every move I have made is the boldest per time. This is because I don't have it easy. I am single handedly building an empire without a support system. I tell you something, every project you have seen me do started with fears. Most times I wonder just how I am going to be able to pull it off. But my drive is so big and I complete every thing I start. So every move I have made is very bold trust me.
 6. I surprise people when I tell them… 
My journey so far, the rigorous process, the pains and encounter and the fact that I have no support system.
7. My best advice to people starting a career or building a professional business are….
You must be sure of what you want to dabble into. Be sure you have discovered yourself and in tune with your life's purpose. Ensure that you have ample passion. Be about substance and not buzz. It is not easy out here so be very sure before you start. 
8. My best advice from a mentor was… 
 OMA, keep doing what you are doing. 
9. My biggest setback was… 
I am  a very positive person so setbacks I see as part of the process but some are or were really painful. The worst being the over 10 millions wasted in the first season of my show. The loss of my car, the first 2 years in business. If not for passion, I would have given up a long time. 
10. The lesson I Iearnt from this set back was ….  
Never trust paper qualifications and  religious beliefs.
11. My career helped to build the following skills… 
I used to be very shy and afraid of popularity. My career is helping me conquer them. And of course, my career helped refine my multiple talents. 
12. If you searched the web for, you still wouldn't know… 
Well, many people don't know I am left handed.
13. I stay inspired by… 
My inspiration comes from within and the knack to make an impact. I am an inward person.  
14. The future excites me because… 
The future is so bright. I have a lot lined up and I am going to make sure that through what I do, Africa and its Human Resources will be a lot better. A lot are in the pipeline. Just wait for them.
 15. My next step is… 
Just wait for them.
Thank you Oma.